Friday, Oct. 14 & Saturday, Oct. 15, 2022
8:30 AM – 4:45 PM (both days)
Online Conference via Zoom
This is an online conference, and all presentations and discussions will occur utilizing ZOOM technology. Registrants for the conference will be emailed information to connect to the conference at 7:00AM each day, and participants are asked to connect fifteen minutes before conference start time. Participants will be given written instructions for how to ask questions and make comments during the conference. Participants are strongly encouraged to become familiar with the use of ZOOM technology before the meeting.
How do we manage self responsibly and intentionally in the context of emotional triangles?
Now in its 43rd year, the main focus of WPFC's 2022 conference and symposium will be the emotional triangle, one of the most useful contributions of family systems theory in the effort to understand behavior and facilitate change.
In developing his natural systems theory of human behavior, Dr. Murray Bowen described the triangle  as "the basic way three people relate to each other and involve others in the emotional issues between them." (Family Therapy in Clinical Practice, p. 306)  Dr. Bowen observed that the average two-person relationship lacks the stability to manage more than a modicum of tension between the two parties.  Typically, one or both will ease the anxiety by involving a third, fourth, or more persons into interlocking triangles that shift the tension away from the original twosome, hot-potato style.  Who is holding the "hot potato" at any given time affects the sense of well-being and level of functioning of each person in the triangular network, and of the entire relationship system.

Managing self responsibly and intentionally in the context of emotional triangles will be a theme of this year's keynote presentations by Laurie Lassiter, MSW PhD.  Dr. Lassiter works as a clinician in private practice and has authored several articles on Bowen theory, including "The Regulatory Function of the Triangle," published in Peter Titelman's book on Triangles. In two separate talks, Dr. Lassiter will address the obstacles people experience in the effort to be more regulated by self and less by the automatic emotional pressures of the triangle.
Other presenters will include WPFC faculty members, as well as early and more seasoned learners of family systems theory from around the country. There will be ample opportunity throughout the two-day conference for questions and discussion.
KEYNOTE PRESENTATION
Laurie Lassiter attended the University of North Carolina at Chapel Hill as an undergraduate in the Religion Department. She has a PhD from New York University in cultural anthropology and an MA in social work from Smith College. Dr. Lassiter trained under Murray Bowen for four years at the Georgetown Family Center postgraduate program, and she has written several articles and book chapters on Bowen theory. Since 1991 she has been a frequent presenter at the Bowen Center Symposia and other conferences.
Dr. Lassiter serves as an Editorial Consultant for the Family Systems journal. She has organized two professional groups in Bowen theory that have been meeting for several years. Currently she is meeting with anthropologist Joanne Bowen and a small group to study societal process.  She has a private practice open to individuals already familiar with Bowen theory. Dr. Lassiter leads a memoir writing group in her community in Leverett, Massachusetts, a rural town near Amherst. She is married with an adult son. Most days she can be found walking the trails with her Labrador Retriever, Cece.
Pt. I – Bringing the Triangle to Life

Bringing the Triangle to Life begins with recent brain research on rejection and social pain, and the anxiety people may feel with the threat of rejection that hasn't yet occurred, but is only imagined. It describes how the two-against-one triangle process can trigger the social pain of being rejected or blamed when one is pushed into the outside position. Examples of being caught in the triangle are offered as a way to generate thinking and discussion about the triangles that the participants experience in their own lives, with an emphasis on the parental triangle and the effects of the unresolved parental triangle.
Pt. II – Stress, the Triangle, and Hormetic Stress
Stress, the Triangle, and Hormetic Stress overviews the stress experienced with the triangle in two ways: 1) the potential experience of rejection as explored in Bringing the Triangle to Life; and 2) the stress that people experience as they work with Bowen theory to regulate self vs. going along with the pressures of the triangle. The science of hormetic stress as it is generally known, with examples of exercise and intermittent fasting, will be introduced, with the idea of applying hormetic stress to the effort toward self-regulation, differentiation of self. Participants are encouraged to consider steps they may take in their own lives that are accompanied by a small amount of anxiety or stress that can have an out-sized invigorating health effect on the individual and the family as a whole.
CONFERENCE FEES
General Admission
:
**New Registration Option** – WPFC now offers registration for both live attendance and to view the recording of the conference for those unable to attend on the scheduled dates. Social Workers, LPC's and LMFT's who register to view the conference recording are still eligible to receive all credit hours.
Please note: After the conference the recordings will be available to all registrants for a period of 30 days.
General Admission:
Student Admission*:
* Please send a scanned copy of your student ID or other proof of enrollment to rebecca@wpfc.net in order to receive a student admission discount code to be used during checkout.
THE WESTERN PA FAMILY CENTER SCHOLARSHIP FUND
The WPFC Scholarship Fund was created to provide financial aid to students, clinicians and other professionals facing financial hardships. This fund is made available through the generosity of our donors to keep education accessible and Bowen Family System Theory within reach to further one's own work.
If you would like to receive financial assistance for this program, please send an email to rebecca@wpfc.net for more information.
---
SPEAKER BIOS AND CONFERENCE SCHEDULE
The conference schedule and Speaker Bios are now available for download as PDFs. Please see below:
43rd Conference and Symposium Speaker Bios
43rd Conference and Symposium Schedule
LEARNING OBJECTIVES
For this conference there are 30 learning objectives for 14 CE hours in total.
Download the Learning Objectives
CONTINUING EDUCATION CREDITS
**CE's now available for Social Workers, LPC's and LMFT's who register to view the recorded conference.**
Please note:
This is a flat fee of $15 per certificate requested regardless of whether participants attend one or two days.
Participants requesting Social Work CE's will receive their credits from our co-sponsor approximately 5-7 weeks after the conference takes place. WPFC does not provide participants with their certificate.

Social Work:
LSW/LCSW, LPC and LMFT continuing education credits will be provided for a flat fee of $15.00 per person.  
This program is offered for 14 hours of social work continuing education through co-sponsorship of the University of Pittsburgh's School of Social Work, a Council on Social Work Education-accredited school and, therefore, a PA pre-approved provider of social work continuing education. These credit hours satisfy requirements for LSW/LCSW, LPC and LMFT biennial license renewal. For information on social work continuing education call (412) 624-6902.
Psychology:
Psychology continuing education credits will be provided for a fee of $25.00 paid directly to GPPA after the program has been completed. Recipients will receive a link to submit a training evaluation and submit their CE payment online.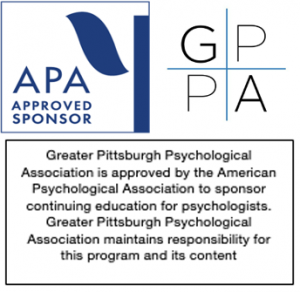 CONTACT
Conference Registration questions:  Contact Rebecca Keller at rebecca@wpfc.net
WPFC programs and services: Cynthia Larkby, Ph.D. at Cynthia.larkby.phd@icloud.com