The Galileo Effect: Searching for Facts
This is an online conference, and all presentations and discussions will occur utilizing ZOOM technology. Registrants for the conference will be emailed information to connect to the conference at 7:00AM, and participants are asked to connect fifteen minutes before conference start time. Participants will be given written instructions for how to ask questions and make comments during the conference. Participants are strongly encouraged to become familiar with the use of ZOOM technology before the meeting.
What does it take to bring a new idea into the world and maintain one's thinking even when the stars do not align?
Galileo Galilei (1564-1642) is considered the father of modern science and made major contributions to the fields of physics, astronomy, cosmology, mathematics and philosophy. His belief that the earth revolves around the sun was deemed heretical by the Catholic Church. In 1632 he published "Dialogue on the Two World Systems". The Catholic Church put him on trial, banned the book and sentenced Galileo to a light regimen of penance and imprisonment at the discretion of church inquisitors.
Dr. Murray Bowen, the founder of Bowen Family Systems Theory (1913 – 1990) also pushed against the grain. "The most important question might be: how was Bowen able to sustain a way of thinking that was radically different from conventional thinking in psychiatry at that point in time, and how did he do this while maintaining mutual high regard in the important relationships he had with colleagues, supervisors, and administrators in every institution in which he worked?"
The goal of this conference is to highlight the challenges that come with staying on course with one's own thinking when at odds with family, other important relationships, and social institutions. Best described in Bowen theory as "differentiation of self,' this idea is the keystone concept of the theory.
The conference format is a structured interview with our keynote speakers, Catherine Murphy Rakow, MSW, ACSW and Jack Butler, PhD.
Papers presented by two additional speakers will highlight their own perseverance in applying Bowen theory in their professional work. Ample time will be available for interactions with conference participants.
Keynote Speakers
Catherine Murphy Rakow, MSW, ACSW, a member of our WPFC faculty, is the 2023 distinguished Polly Caskie awardee. The award was given in recognition of Ms. Rakow's many years of work reviewing Dr. Bowen's personal papers that led to writing the book, Making Sense of Human Life, Murray Bowen's Determined Effort Toward Family Systems Theory. In it, she chronicles Bowen's efforts to think for himself and communicate his theoretical concepts derived through careful observation and recording of the facts of family relationships. Writes a colleague, he posited that "the family is a natural system with inherent strengths and adaptability; with assistance from those who have the capacity to provide support without becoming entangled in the family emotional process, the family will find its own resources and its own answers."
20% Discount Available – Visit Routledge.com to purchase a copy before the conference and use the discount code AFL02 at checkout* 
Discount Flyer PDF – Routledge Publishing
* Please note that this discount code cannot be used in conjunction with any other offer or discount and only applies to books purchased directly via www.routledge.com. This code expires on 30 September 2023.
Jack Butler, PhD is the editor of The Origins of Family Psychotherapy: The NIMH Family Study Project. This book is a collection of some of Murray Bowen's published and unpublished papers written during the National Institute of Mental Health Family Study Project from 1954-1959. They detail observations of families on the research unit and show the theoretical shift in thinking from the mother-daughter dyad of the original research to the broader systems view of the family as a unit. These collected papers focus on the intellectual pursuit of understanding the family as an emotional unit and the more challenging work to shift from an individual orientation and manage over-identification with individuals. (Bowen, 2013, p. 170).
Registration Fees
**New Registration Option** – WPFC now offers registration for both live attendance and to view the recording of the conference for those unable to attend on the scheduled date. Social Workers, LPCs and LMFTs who register to view the conference recording are still eligible to receive all credit hours. This option is not currently available to Psychologists due to APA guidelines.
Please note: the conference recordings will be available to all registrants for a period of 30 days.
$95 – Live Attendance via Zoom
$95 – Conference Recording Only
$40 – Student Rate: Please send a scanned copy of your student ID or other proof of enrollment to rebecca@wpfc.net in order to receive a discount code to be used during checkout.
THE WESTERN PA FAMILY CENTER SCHOLARSHIP FUND
The WPFC Scholarship Fund was created to provide financial aid to students, clinicians and other professionals facing financial hardships. This fund is made available through the generosity of our donors to keep education accessible and Bowen Family System Theory within reach to further one's own work.
If you would like to receive financial assistance for this program,  please click here to send an email to rebecca@wpfc.net for more information.
Speaker Bios and Conference Schedule
Learning Objectives
13 Learning Objectives for 6 Training Hours
Participants will be able to:
Discuss how Bowen's work during the Family Study Project influenced his clinical views of the therapeutic relationship.

Explain how Dr. Butler's work emerged from the postgraduate program to an interest in his papers during the NIMH Family Project

Identify the two life forces Bowen hypothesized to shape an individual's life.

Describe or define the term religious anxiety and explain how it can affect the functioning of a pastor, congregation, or individual.

List at least three ways in which a pastor or leader can navigate the turmoil of congregational or organizational changes.

Describe the concept of differentiation of self.

Describe Murray Bowen's research method, 1946-1955.

Identify the early origins of key concepts in the theory.

Describe how resistance to implementing the concept of 'family as a unit' was recognized and resolved.

Describe how the emergence of the new theory/therapy overcame the established convictions of the staff and the incentives/disincentives of the professional culture.

Discuss how Bowen Family Systems concepts and practices can be introduced in a University Graduate training program.

List two key observations that Bowen made that moved him toward the development of his theory.

Differentiate between a systemic and individualistic understanding of emotional processes.
Continuing Education Credits
Social Work:
**CEs now available for Social Workers, LPCs and LMFTs who register to view the recorded conference.**
LSW/LCSW, LPC and LMFT continuing education credits are $15.00 per person.  
This program is offered for 6 hours of social work continuing education through co-sponsorship of the University of Pittsburgh's School of Social Work, a Council on Social Work Education-accredited school and, therefore, a PA pre-approved provider of social work continuing education. These credit hours satisfy requirements for LSW/LCSW, LPC and LMFT biennial license renewal. For information on social work continuing education call (412) 624-6902.
Please note:
Participants requesting Social Work CEs will receive their credits from our co-sponsor approximately 5-7 weeks after the conference takes place. WPFC does not provide participants with their certificate.
Psychology:
Psychology continuing education credits will be provided for a fee of $25.00 paid directly to GPPA. All Psychology CE recipients must attend the conference live (via Zoom) to receive their credits. After the program has been completed, recipients will receive a link to submit a training evaluation and submit their CE payment online.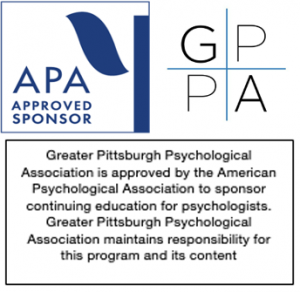 CONTACT
Conference Registration questions:  Contact Rebecca Keller at rebecca@wpfc.net
WPFC programs and services: Cynthia Larkby, Ph.D. at Cynthia.larkby.phd@icloud.com