Annual Spring Conference
June 10, 2022 @ 8:30 AM

-

4:30 PM

EDT
ANXIETY, PHYSIOLOGY, AND ADAPTIVE CAPACITY:
A FAMILY SYSTEMS PERSPECTIVE
Friday, June 10, 2022
Online Conference via Zoom
Please note

: All attendees will receive the Zoom link on the day of the conference at 7:00 AM.
How can the challenges to human behavior best be understood and overcome?
This training focuses on Bowen theory's unique contribution to the understanding of human behavior from First Principles. Human problems arise from our shared phylogenetic history with other living creatures.  The family is the natural system from which humans learn to cope with their complex world.
KEYNOTE PRESENTATION
Family and the Shaping of Adaptive Capacity
by Robert Noone, PhD
Bowen Theory's concept of differentiation entails two basic and interrelated processes: 1) the development of emotional autonomy in relation to an individual's family of origin and 2) the differentiation in the functioning of the higher cortical systems involved in effective self-regulation and goal-directedness.
In this presentation Dr. Noone will discuss the central role of the family in shaping an individual's adaptive capacity in response to life's challenges both from a developmental and evolutionary perspective.
Robert J. Noone, Ph.D. is a faculty member at the Center for Family Consultation, Evanston, IL and the Georgetown Family Center in Washington, D.C. He is the editor of the journal Family Systems and co-editor of the books The Family Emotional System (2015) and Handbook of Bowen Family Systems Theory and Research Methods (2020). He is also the author of the recently published book, Family and Self: Bowen Theory and the Shaping of Adaptive Capacity (2021). Dr. Noone has a practice in family psychotherapy in Evanston, IL. He received his doctorate from the University of Illinois at Chicago and postgraduate training at Georgetown University Medical Center in Washington, D.C.
Additional WPFC faculty presentations include love, family anxiety and physiology and the power of relationship loss.
CONFERENCE FEES
General Registration – $90.00
Student Registration – $40.00*
*If interested in the discounted student fee, please send a scanned copy of your student ID or other proof of enrollment to rebecca@wpfc.net to receive a discount code to be used during checkout.
THE WESTERN PA FAMILY CENTER SCHOLARSHIP FUND
The WPFC Scholarship Fund was created to provide financial aid to students, clinicians and other professionals facing financial hardships. This fund is made available through the generosity of our donors to keep education accessible and Bowen Family System Theory within reach to further one's own work.
If you would like to receive financial assistance for this program,  please click here to send an email to rebecca@wpfc.net for more information.
SPEAKER BIOS AND CONFERENCE SCHEDULE
LEARNING OBJECTIVES
Participants will be able to:
Assess their current thinking about the basic concepts of Bowen Family Systems Theory and revisit that thinking through the ideas presented.

Apply BFST to specific lived phenomena. 

Formulate common relationship processes such as love as variable phenomena depending on where the individuals are on the continuum of differentiation.

Explain the physiological development of family members as a relationship-based, interactive process from the perspective of Bowen Family Systems Theory. 

Identify strategies one might consider in addressing cut-off in the family system as contained in Bowen Family Systems Theory. 

Identify clinical approaches for relating physiological symptoms to emotional process in the multigenerational family.

Describe how a person's feeling states are a function of both the individual emotional system and the emotional system that is shared with significant others. 

Explain how a person can increase capacity to manage feeling states for the good of both self and the relationship system. 

Demonstrate a stance of mindful observation and intentional channeling of human emotion that can contribute to the well-being and well-functioning of individuals and their relationship systems. 

Describe the physiological stress response system.

Define the emotional, feeling, and intellectual systems, as understood in Bowen theory.

Describe how the human family is a higher level biological system.

Apply at a rudimentary level Bowen theory to the integration of knowledge across disciplines.
CONTINUING EDUCATION CREDITS
Social Work:
LSW/LCSW, LPC and LMFT continuing education credits will be provided for a fee of $15.00.  
This program is offered for 6.5 hours of social work continuing education through co-sponsorship of the University of Pittsburgh's School of Social Work, a Council on Social Work Education-accredited school and, therefore, a PA pre-approved provider of social work continuing education. These credit hours satisfy requirements for LSW/LCSW, LPC and LMFT biennial license renewal. For information on social work continuing education call (412) 624-6902.
Psychology:
Psychology continuing education credits will be provided for a fee of $25.00 paid directly to GPPA after the program has been completed. Recipients will receive a link to submit a training evaluation and submit their CE payment online.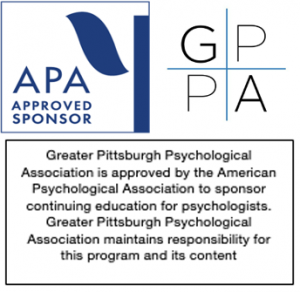 CONTACT
Conference Registration questions:  Contact Rebecca Keller at rebecca@wpfc.net
WPFC programs and services: Cynthia Larkby, Ph.D. at Cynthia.larkby.phd@icloud.com