WPFC Annual Fall Conference & Symposium
October 23, 2020

-

October 24, 2020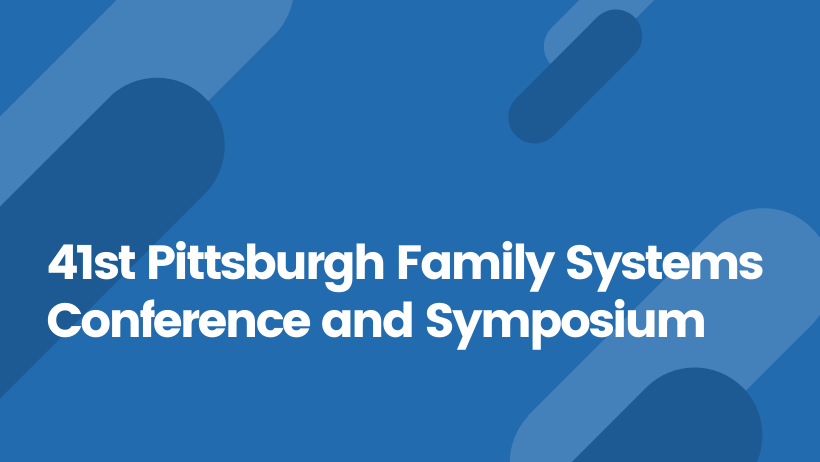 Save the dates! On October 22 & 23, 2021 WPFC will host its 42nd Pittsburgh Family Systems

Conference

 & Symposium: Applying Family Systems Theory in a Conventional World
Check back here for details as planning moves ahead.
See below to read an overview of the 41st Conference & Symposium.
Social Threats in Challenging Times:
How Families and Other Human Systems Adapt
41st Pittsburgh Family Systems Conference & Symposium
Online Conference via Zoom
Families, organizations and social institutions function as well as they adapt and manage countless threats and challenges.  The universal threat of the COVID-19 virus has challenged families and social groups.  While the threat is new and sudden, the ways families and social groups adapt are grounded in natural emotional processes and long-term patterns of functioning as a family or group.  Furthermore, the virus illustrates how we adapt as a family and social group, and not merely as individuals.  Adaptation is an interactive relationship between us and our environment that is reciprocal and constantly changing.  As we adapt, threats change in response, prompting further coping responses.  Successful adaptation is a long-term, complex interplay between threats and response that is not simply the actions of each person.  Instead, a family and group has interlocking relationships that function as a system shaped by emotions, patterns of functioning, events and relationship forces.
Bowen family systems theory provides a way to understand how families and social groups adapt to challenges and threats as a single, interlocking unit and relationship system.  The theory explains how emotional systems adapt based on natural emotional processes.  It describes how these adaptations can shape future coping of a family or social group.  The conference and symposium provide an opportunity for presenters and attendees to explore the functioning of families and social groups as emotional systems.  Each presentation does not focus on COVID-19.  However, each presentation explores the functioning of emotional systems and ways they adapt to challenges and events.  The COVID-19 virus will be a common discussion theme throughout the conference and symposium.
SPEAKER BIOS AND CONFERENCE SCHEDULE AVAILABLE FOR DOWNLOAD
Download the Symposium and Conference Schedule – Friday 10/23/20
Download the Symposium and Conference Schedule – Saturday 10/24/20
Conference Learning Objectives
At the conclusion of the program, participants will be able to:
Recognize how symptoms, threats and events challenge families and social groups and shape the functioning of interlocking relationships.
Describe how the impaired functioning of some members of a system contribute to the overall system's adaptive efforts.
Assess how various levels of functioning of members of the same family and social group function as an interlocking unit and relationship system.
Analyze hypotheses that explain and guide interventions with families and social groups facing social threats.
Explain the basic concepts of Bowen family systems theory and how to apply them to clinical and organizational settings.
Discuss the basics of a natural family systems theory, as formulated by Dr. Murray Bowen, which theory and concepts can be applied to both professional and personal work within families, organizations, and communities.
Compare levels of behavioral reactivity—especially during challenging times—that lead to unwanted outcomes in families, organizations, and communities.
Describe how thoughtfulness might be accessed amidst the alarms that understandably are triggered during periods of intense stress.
Explain how COVID impacts the functioning of families and how long-term family functioning may contribute to the vulnerability to the disease.
Plan how to better manage and lead organizations in ways that reduce racial bias decision making by professional staff.
Assess how social media shapes our social environment and spreads disinformation, influencing our perceptions of threat.
Conference Description
The WPFC annual conference and symposium provides an opportunity for local lay and professional persons to present their efforts to observe, study and apply Bowen family systems theory.  The opportunity for students, seasoned professionals and others to present their perspective, thinking and work promotes an understanding of natural systems, nature and human functioning.  Persons from many fields of science are encouraged to present and attend the conference and symposium.  
Each presenter will use slides that will accompany their presentation in order to enhance learning and participation.  Introductions of presenters will be brief as their biographies are listed in this brochure.  During a portion of the lunch period, interested participants can attend a brief breakout room meeting about family center programs and services.
Lead Presentations
Disinformation Playgrounds for Bots and Trolls
By Kathleen M. Carley, Ph.D. – Professor of Computer at the Institute of Software Research at Carnegie Mellon University
Presentation Description:  Today most people turn to the internet and social media for news and to converse with others.  This cyber information environment is the home of bots and trolls.  These actors employ diverse tactics, to shape who is talking to whom on social media, which web pages are read, and who is writing about what.  They can and are being used to spread disinformation in ways that individual humans often cannot spot.  Our ability to interact and debate without undue influence is threatened in this cyber-information environment, this is the social-cybersecurity threat.  In this session the nature of social cybersecurity, the cyber=information environment and disinformation will be discussed.  Information on how social media operates, and the way bots and trolls can shape that environment and spread disinformation will be examined using case examples drawn from elections and COVID-19. The session will conclude with a review of what is known about reducing the threat and being more secure in this space.
Who's Got Time for a Theory when All Systems Are Screaming "Fire!"
By N. Michel (Mick) Landaiche, III, Ph.D. – Dr. Landaiche has worked since 1989 as a psychotherapist and training supervisor with individuals, couples, and families in agency, university, and private-practice settings. He has also applied a systems approach to consulting for nonprofit and government organizations. He currently coordinates the Basic Seminar in Bowen Theory for the Western PA Family Center.
Presentation Description:  When threat levels spike, sometimes the first thing to go is our capacity for thoughtful action.  Overrun with a sense of urgency, we may take steps that actually make the situation worse, that only increase the threat levels in a cycle of escalating panic and impulsive, reactive behavior.  Sometimes only when the dust has cleared do we look around to see the damages we have unwittingly contributed to.  The sense of ensuing grief can persist for generations, sometimes haunting us like unseen ghosts.  And yet in the midst of a stressful time, with all alarms blaring, the last thing that may seem useful is a theory, a way to think, a set of ideas and practices.  So arguably, those are exactly the times when we do so desperately need something to organize our minds and bodies.  And Dr. Murray Bowen has bequeathed one such possible resource—a natural systems framework for taking constructive action during the more challenging times in our families, organizations, and communities.
Other Presenters
John Rushofsky, Arthur Zipris, PhD, Sandra Caffo, LCSW, Catherine Murphy Rakow, MSW, Rosemarie Perla, MS, MA, PC, Walter H. Smith, Jr., PhD
Continuing Education Credits: 
Social Work:
LSW/LCSW, LPC and LMFT continuing education credits will be provided for a fee of $25.00 for one day / $40.00 for two days.  
This program is offered for 12 hours (6 hours for single day) of social work continuing education through co-sponsorship of the University of Pittsburgh's School of Social Work, a Council on Social Work Education-accredited school and, therefore, a PA pre-approved provider of social work continuing education. These credit hours satisfy requirements for LSW/LCSW, LPC and LMFT biennial license renewal. For information on social work continuing education call (412) 624-6902.
Psychology:
Psychology continuing education credits will be provided for a flat fee of $30.00. Please note: Psychologists seeking CE's must attend both days to receive CE's (12 credit hours) for participation.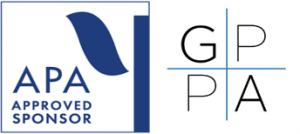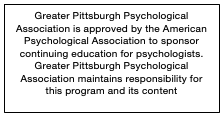 Contact Information
Conference Registration and questions:  Contact Rebecca Keller at

rebecca@wpfc.net


WPFC programs and services: Cynthia Larkby, Ph.D. at

Cynthia.larkby.phd@icloud.com